When Fashionistas get angry,
WE WILL RIP YOU APPART LIKE A CHEAP PAIR OF SOFT NYLONS PURCHASED FROM THE DRUG STORE!
I like to believe that I'm quite the nice and gentle person with rare... err uh well... occasional mood swing tendencies, but I blame it on the people that refuse to leave me alone and unbothered! Being the classy gentleman that I am, I've politely asked multiple times for this particular person to leave my family and I alone, but nope, they just don't understand well-mannered speech because they're obviously uneducated and...just plain stupid!
Since, I've been lacking my weekly dosage of shopping due to hectic work schedules and just being so damn poor, my mood-swings are currently cranked up on maximum. Ergo, today was the day when I completely LOST MY SHIT and went Janice Dickinson on crack and pardon my language, but I ripped that MOTHERFUCKINGPIECEOFSHITCUNTEATINGSONOFAWHORE a new one!
I barked at them senselessly but that left them unaffected, so I decided to play real dirty and I literally kicked them against a door and started stomping them to the ground while continuing my screaming of profanities. In times like this, don't you just wish that you were wearing some kind of killer shoe like that infamous pair of ten-inch platforms by Vivienne Westwood so you could stomp on that dirt-bag silly? Either way, if it wasn't for my brother and an innocent bystander holding me back like lion tamers, I wouldn't have stopped kicking that sack-of-shit's face in!
After a moment of exhaustion and frustration about what just had happened, I realized that I've pathetically stooped down just as low as that person who I was attacking confronting...uhhhhh...but really, I was less than remorsefull and I actually realized that I need to get back into shape ASAP!
-Px.
P.S. I`m completely obsessed and salivating over the exuberating sex appeal of the current Jimmy Choo front page! Just a thought, if these heels could speak, I'd bet they say, "I'll fuck you up!"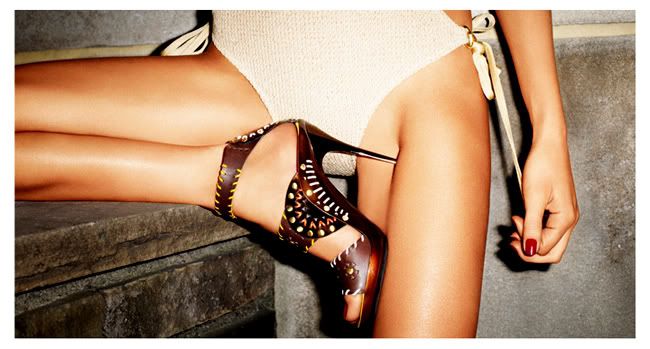 jimmychoo.com