Whats better than chocolate?...HALF-PRICE CHOCOLATE!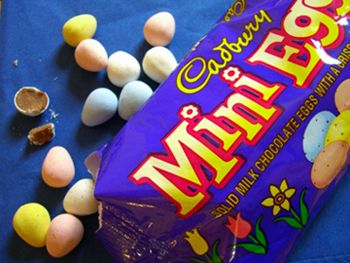 I don't celebrate the Easter holiday but when it's over, I do celebrate and praise the fact that all the Easter chocolate candy goes on sale for half-price!
As I swaggered around Wal-Mart with my oversized sunglasses on and my trench coat tied so tightly that I could barely breathe nor bend, I couldn't help myself but dive into the Easter clearance and rummage for Cadbury's gloriously delicious Mini Eggs! After 15 minutes, my coat was off, merchandise was thrown everywhere and I've secretly sampled just about everything that was there. Luckily, I was able to walk away with the last two small bags of Mini Eggs. One of the bags I actually found in the abundance of other cocoa imitations while the second bag, I stole from someone's shopping cart. Hey, it's fair game and besides you shouldn't have left your shopping cart unattended in the first place, that's just like wearing open toe shoes to a busy night club and hoping no one will step on your pedicured toes! You're just asking for it to happen!
-Px.