*AGURH*
I really hate prom season only because it reminds of that TRAGIC, ill-fitting and boxed suit I wore to my graduation. Just the thought of that suit or even when I depressingly flip through old photo albums and come across photographs of me in it... makes me gag in agony and frantically want to rip every single page out of the album!
If only I could go back to Prom again, my date and I would look a lot more couture and a lot less haute mess. But then again, there'll be a scrap between us to decide who gets to wear the tiara and BITCH, I ain't talking about no diamonelle crap from Claire's, I want a full blown 500 diamonds, 10 carat MIKIMOTO crown that would put any Miss Universe crown to shame! Mmmmmmmhuh.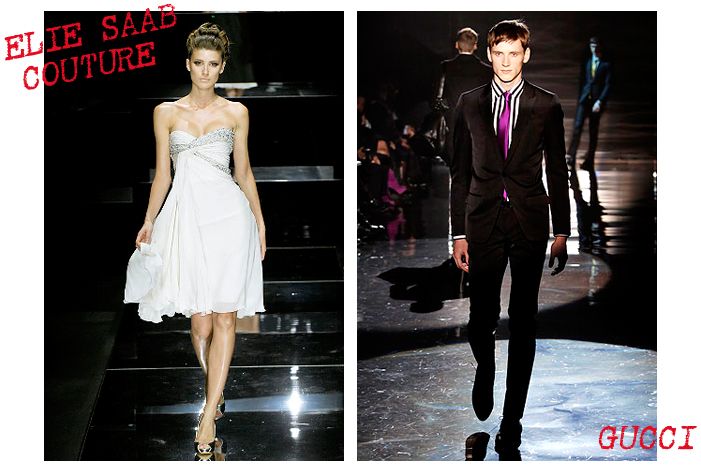 Ladies take note: Short, silk and flowy a-line dresses with minimal embellishment is extremely cute and definitely prom ready. It's almost summer so leave the floor length ball gown for winter. Purchase a dress that you will wear again in the future not one that you'll wear once and then store away to never see the light of day ever again, a timeless piece is forever (unless you gain 50lbs in freshman year, then life as you know it, is probably over ). Wear comfortable shoes and please wear heels you can walk in, PLEASE ! The last thing you would want is to look like you were born just yesterday and learned how to walk today!
For the Gents: A tailored suit or tux is the way to go. Every real man needs to have that one perfect fitted SUIT, so it's probably a good time to invest in a good quality and structured suit now. A black or a dark charcoal suit goes with EVERYTHING, you can't do no wrong! Alternate tie and dress shirt colours for a constant updated fresh look. And lord forbid you to wear those tacky chunky square toe Steve Madden shoes too!
So girls, I hoped you refrained yourself from wearing those cheap polyester rayon and tacky fairy tale glitter bombed kind of dresses because you will regret it!... and of course, if you're the class whore, I hope your wearing panties and God forbid they better be seamless because panty lines are a ATROCIOUS, especially when your vacuumed in that trashy red strapless number that is OBVIOUSLY two sizes too small for you! Also, all you boys best not be going for the guido or chachi look! DON'T YOU DARE pop that dress shirt collar up or pop it over on-top of your jacket blazer! If any guy sports that Ed Hardy kind of crap at prom too... Good Lord, I hope you don't graduate!