And I'm going to be FAMOUS and media reporters will be lined up all the way down the street till the corner where all the hookers stand, just to have a quick interview with me. But until then... I'm filling out this questionnaire from some girl named [*insert credit name here* ] to mark what will be the beginning of something fabulous... and because it's MY blog and I can be a vanity stricken whore if I choose to.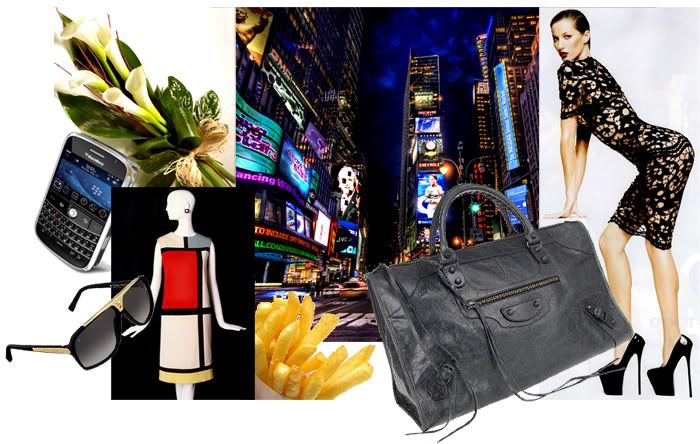 The Questions:
Who is your favourite designer? Hedi Slimane, Alber Elbaz, Marc Jacobs and Uncle Karl.
How would you describe your look? Comfortable Casual with street edge and a hint of high end designer.
If you could come back as a dress, what would it be? I would say the classic Mondrian (belted though ;p) by Yves Saint Laurent but I`m feeling trashy, so I would sport Versace`s high slit safety pinned dress made famous by celebrity reject, Elizabeth Hurley.
If you could come back as a model, who would it be? Janice Dickinson. Bitch has been around the block and into the crack alleys so many times, she probably has some good stories to tell or maybe even show!
First designer item ever bought? A Louis Vuitton Damier Geronimo bag that has been literally used once or twice, but cost me all my lunch money in high school.
Junk food? I'm a complete sucker for fries & potato chips. They are literally my saturated and fatty guilty pleasure. I would trade in one of my Louis Vuitton Bags LIMBS for a serving of fries if it was my last meal on earth.
What are you most vain about? I would like to believe that I`m quite the modest person, but who the fuck am I kidding... I love every designer piece I own. From my Gucci sneakers to the countless designer sunglasses to my underwear, I am one huge LABEL WHORE.
What are you most shy about? My body. I`m extremely self conscious about my self body image and always will be.
If you could come back with someone else's body, whose would it be? Gisele Bundchen, only because I can make a whole lot of $$$$ with that multi-million dollar insured body of mines.
Who are your fantasy dinner-party guests? David and Victoria Beckham for aesthetics, Anderson Cooper for intelligence (and aesthetics too), Ellen Degeneres for constant laughter and Paris Hilton for just some plain dumb blondeness.
Fantasy celebrity one-night stand? Jenna Jamieson. Who else could you learn professional WHORE-ISM than this chick right?
Favorite place to have a drink? Outside on a patio or anywhere with a scenic & gorgeous view.
Underwear? I live for my Calvins. So nothing but Calvin Klein Steels in every colour, shape and embellishment possible (yes, I even have the Swarovski ones).
What can't you travel without? My Blackberry.
Last book you read? I Know This Much Is True – By Wally Lamb
At age seven, you wanted to be... A Geisha A popstar.
What will you always find in your bedroom? Fresh cut flowers by the desk. ALWAYS.
What's the thing you find easiest to forgive? Stepping on my toe at the club, but If you scuff my shoe, you'll probably end up with a bloody scuff across your face.
What's the thing you find impossible to forgive? This cunt from high school who attempted to ruin my life and the lives of the ones I love. That skank can buy me all the Birkins and Maserati's I deeply desire in this world, but I would still throw liquid nitrogen in her face just for fun.
Biggest self-indulgence? Fries & designer hand bags, just not at the same time and near each other.
Favorite place to shop? Front & Company, Urban Outfitters, H&M
Favorite place to shop online? Revolveclothing.com, Diabro.net & eBay.
Whose diary would you most like to read? Anna Wintour's. Just to be able to hold that most likely exotic skinned diary BIBLE of hers in my hands would be glorious enough for me to die happy.
Least favorite food? Steak. I'm not a huge advocate of thick slabs of protein on a plate as a meal. Never enjoyed it and never will.
If you were an inventor, what would you invent? An UNSEND button on cell phones, Blackberrys, emails, etc.
Who are your favourite furniture designers? Besides from everyone's favourite budget furniture place, IKEA, if I was filthy rich and owned a place, I would have it entirely furnished from KOOLHAUS.
What was your childhood nickname? Besides horrible play ground name calling like "Fat Boy " or "Chubbie ", my actual childhood name my parents call me, even till this day is "Ty".
When and where are you happiest? Besides from shopping at your favourite store when theres a huge sale going on, I literally enjoy being with the ones I love doing absolutely nothing but lounge around and spending quality time together.
What piece of art would you most like to own? Something retro and fun from Stephen Sprouse.
What are your favourite vacation spots? I have yet to finalize a favourite vacation spot because I haven't had a chance to leave Canadian grounds, but my dream vacation spots are definitely New York City, London, & Paris.
Most treasured possession? My big, bleached, stark-white teddy bear I had since I was born.
Favorite musicians? Lady Gaga, Mariah Carey, James Morrison, Keyshia Cole.
If you had another profession beside your own, what would it be? Socialite.
What current trends would you like to see disappear? The Affliction, Ed Hardy, UFC or whatever kind crap that them brainless chachis sport around town.
Favorite trend of all time? Skinny jeans/trousers and oversized sunglasses.
Always... Smile.
Never... Settle for less.